15 girl's bedroom designs (Italian style!)
Not yet an adult but no longer a child, has your teenage girl already started to show her style and preferences, starting with her own room?
Find inspiration with these 15 Italian style bedroom sets for girls. You'll find photos and tips for decorating a dreamy (but not too girly!) room.
What you'll find in this post:
10 year old girl bedroom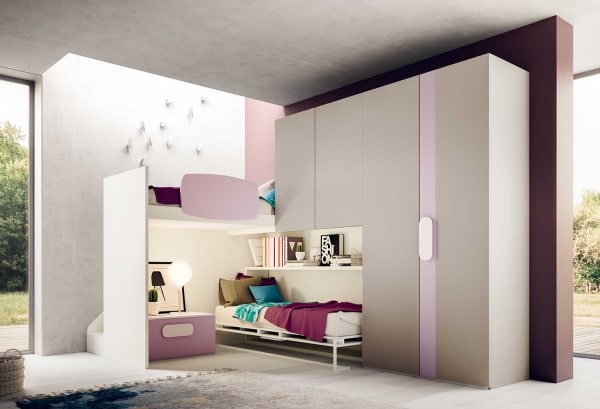 The set: a loft bed, a large wardrobe with wall mounted cabinets and a murphy single bed
The solution
From the age of 10 onwards, little girls are miniature women, bubbly and full of life, with a busy schedule of homework, sleepovers and shopping afternoons with mom.
At that age, their bedroom must be beautiful, giving them a sense of protection and at the same time a hint of independence.
The perfect room for a 10-year-old girl sits somewhere between childhood memories and the entrance into the teen years.
This solution combines shades of pink and pastel tones, a loft bed with an almost secret access and a large two-coloured wardrobe where skirts, dresses and volleyball uniforms can be hung.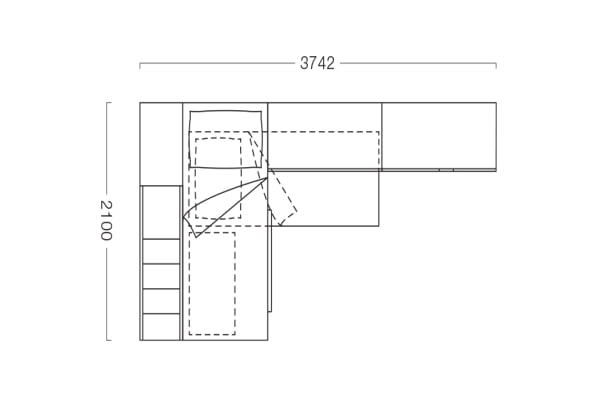 An extra bed for sleepovers Arranged on two walls, this beautiful corner bedroom set includes a second pull-down bed, right under the high sleeper bed.
In just a few seconds, the single bedroom can be transformed into a room for two, the perfect solution for pyjama parties.
12 year old girl bedroom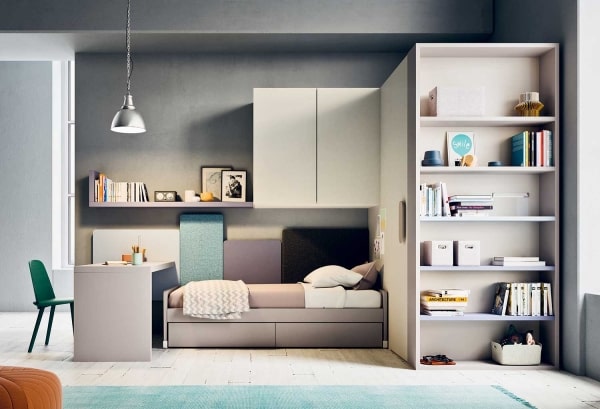 The set: freestanding wardrobe with wall mounted units, single bed with drawers, desk and shelves
The solution
Is your daughter a 12-year-old girl? This bedroom set with walk-in wardrobe perfectly reflects the world of a teenager of that age.
A very special age, in which the room must become a private space, where she can feel safe and at ease.
The ideal room for a twelve-year-old girl should contain, in addition to a comfortable bed, a desk with a large top and a roomy wardrobe.
If the room is small, but you would like to integrate a space for books, the solution is to incorporate a bookcase into the wardrobe, just as you see in the picture.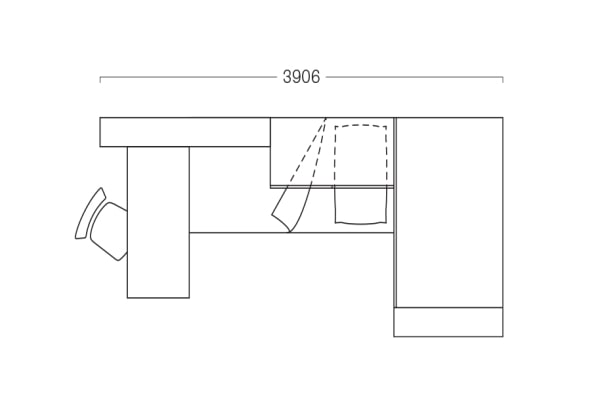 Colours and combinations Neutral and delicate tones such as light grey or dove grey are the colours chosen for this room.
They are perfect at any age (even when the little one is older) and can easily be combined with feminine shades such as wisteria, mauve, lilac or powder pink.
Teen girl bedroom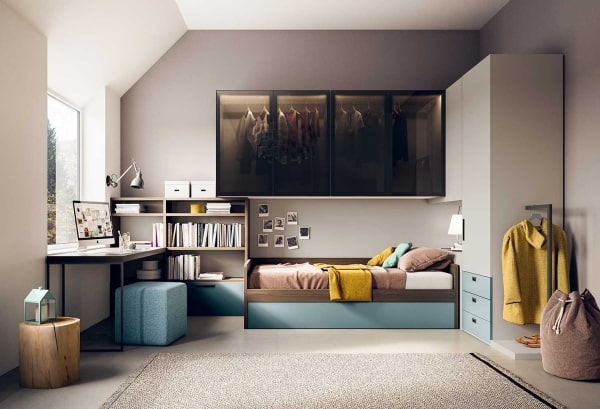 The set: wardrobe with bridging units, single bed with trundle, bookcase with integrated desk
The solution
At first glance, this room for a 14-year-old girl seems to have very few feminine touches. There is no pink or lilac, but grey, avio blue and dark wood. A super stylish combo for determined and self-confident young girls
Although the furniture in the set is placed on three walls, it has been designed with a sense of space-saving in mind. The desk integrates the bookshelves, the bed can conceal a second mattress, and the wardrobe cleverly uses the wall available above the other pieces.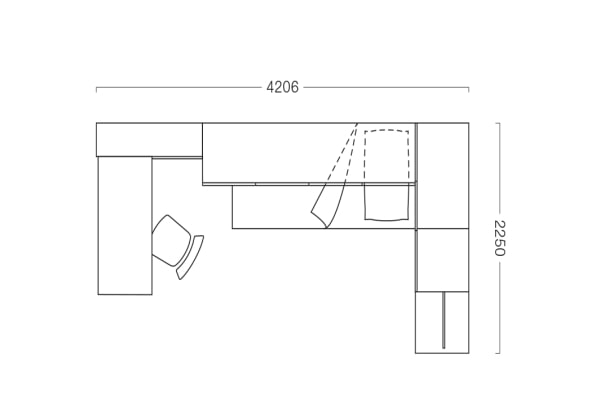 For the fashion victim
We know, a teenage daughter's wardrobe is quite something.
Despite the morning cry '...I have nothing to wear!' echoes loudly through the house, in her room accessories, dresses, bags, backpacks, uniforms and shoes are all over the place?
Go for a modular wardrobe like the one in the image above. Choose the right interior fittings, add some drawers and a clothes rail. This way she'll have everything she needs to keep her belongings in order.
18 year old girl bedroom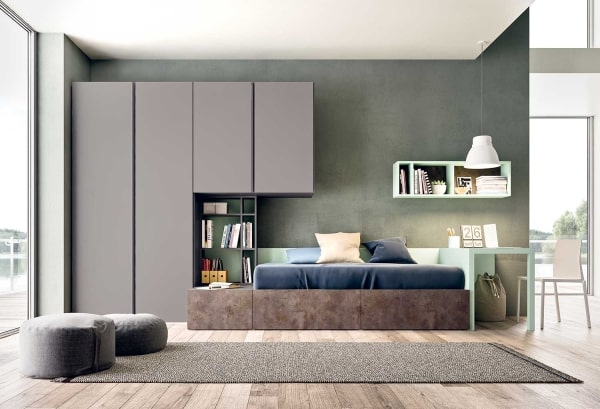 The set: modular wardrobe with bridging units, single bed with drawers, desk and shelving
The solution
For the room of an eighteen-year-old girl, there are no doubts. The style becomes more minimalist, the colours darker and the furniture pieces are functional to support heavy study sessions and hobbies.
This is the case with this long, narrow bedroom, which occupies just one wall. The set features a combination of practical and functional pieces and storage units: a freestanding modular wardrobe complete with wall mounted cabinets and shelving, a bed with roomy drawers underneath, a desk with a bookshelf above.
In order to save some more space, the desk is attached to the bed, an excellent solution to exploit length while reducing depth.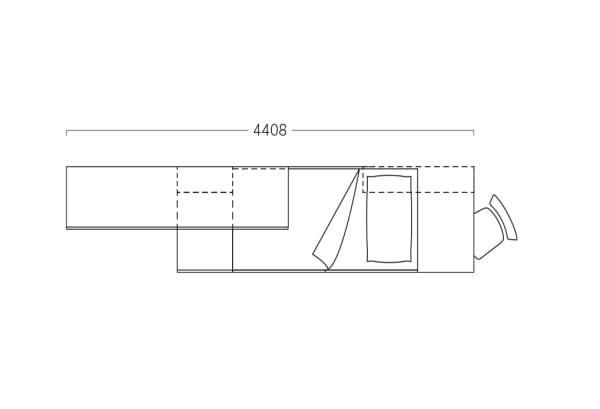 The feminine touch
We love neutral shades, but we also think that adding some colour will make for a more welcoming environment. Here, a touch of aquamarine play down the seriousness of grey.
A white and pink dreamy nook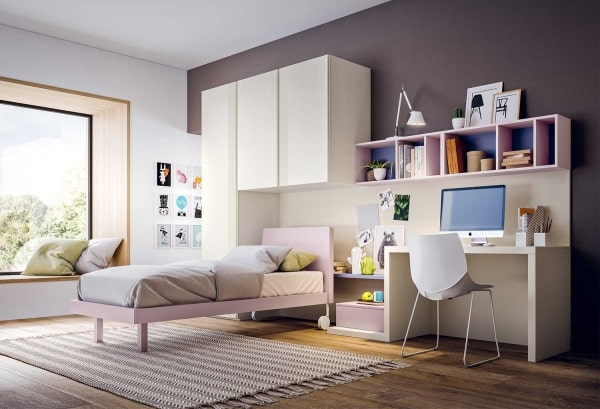 The set: single bed on castor wheels, wardrobe with wall mounted cupboards, desk and multi-compartment shelf
The solution
Ask a young girl what her favourite colour is: she will probably say pink. And it's not surprising that her tastes will change as she gets older. A classic among classics, a pink and white girl's bedroom set is a timeless choice.
Its true strength lies in the compact design, complete with everything needed to organize the sleeping area, wardrobe and homework space.
The footprint? Limited: a 4-metre wall is enough to place the wardrobe, desk, shelves and bed. The style? Evergreen, with pastel colours and light wood pieces.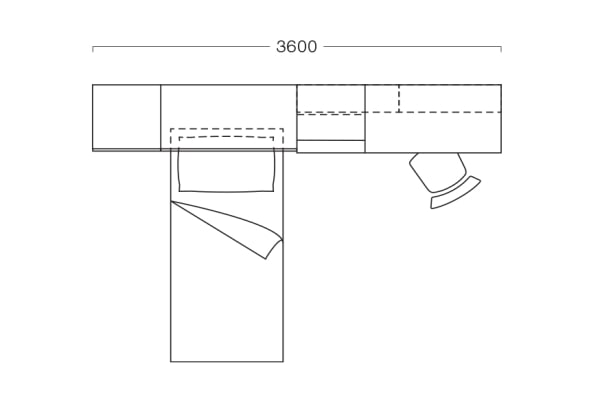 Beautiful and practical
Integrating a bed with castors is a great idea to thoroughly clean up the bedroom or change the layout of the room as required.
16 year old girl bedroom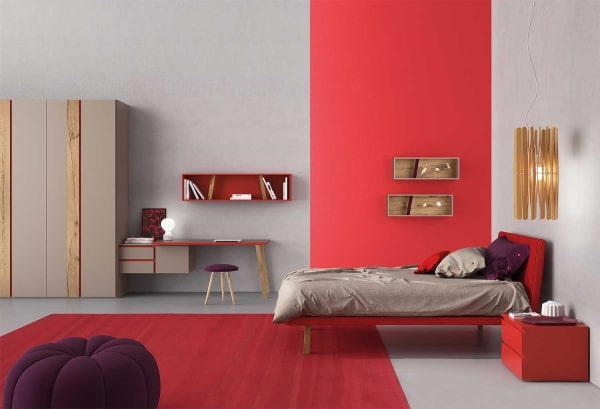 The set: upholstered single bed, desk and wardrobe
The solution
Ah, the sweet sixteen! At this stage her bedroom becomes an exclusive hideaway full of whimsical decorations, accessories and bright colours, photos with friends, drawings...in short, the place is turned into a bubbly universe with a unique style.
The room of a 16-year-old girl is a pure explosion of personality, where the furniture takes on a more adult, essential look.
And finally, the colours: the delicate pastel shades of childhood give way to a vibrant bright red and wooden details.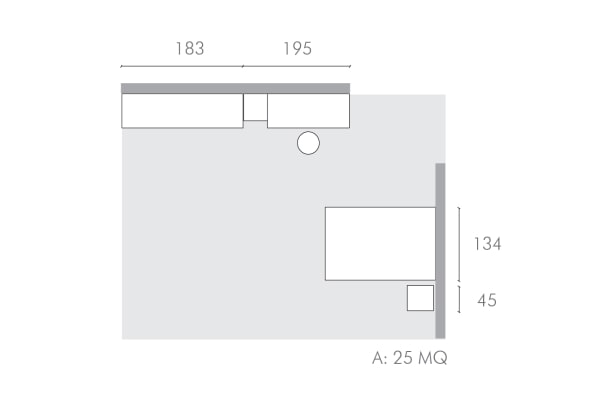 Is red the right colour?
According to colour therapy, energizing colours such as red should be avoided in children's rooms. But we believe that a nice shade of this energetic tone will work just fine in an artsy, dynamic girl's space.
A glam girl room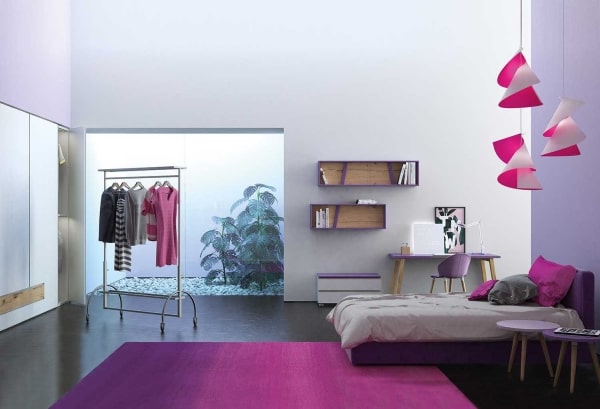 The set: upholstered large single bed, modular wardrobe, studio space with desk and shelves
The solution
A modern teenage princess doesn't need pink. This white and purple bedroom set, is a glamorous choice for girls any age.
In this 12 m² room, everything is set up so that a young woman can study, relax and devote herself to her hobbies.
The bed is generously upholstered and covered in fabric, the wardrobe is very spacious, the desk is equipped with a chest of drawers where she can put her backpack and bag.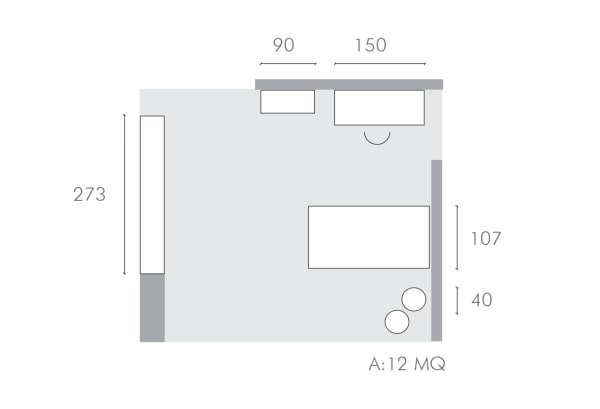 A bedside table for a grown up
Place a couple of small side tables close to the bed to give the room an adult twist.
Neutral girl's bedroom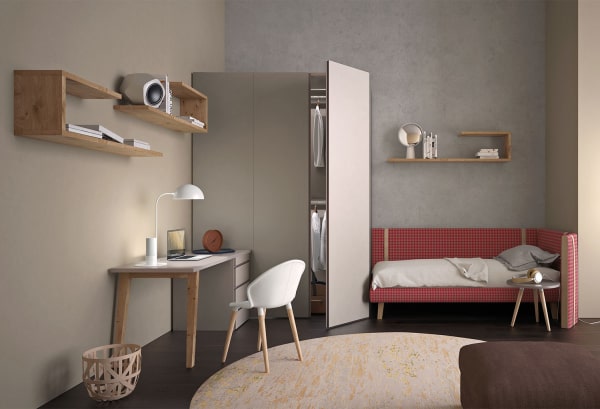 The set: upholstered single bed, small walk-in wardrobe, desk and shelves
The solution
A forward-looking choice, a bedroom set in neutral colours is ideal if you have no intention of changing the furniture as the years go by.
A nice alternative to the classic pink-lilac-purple-white combos, this dove grey bedroom set with wood detailing is a timeless solution.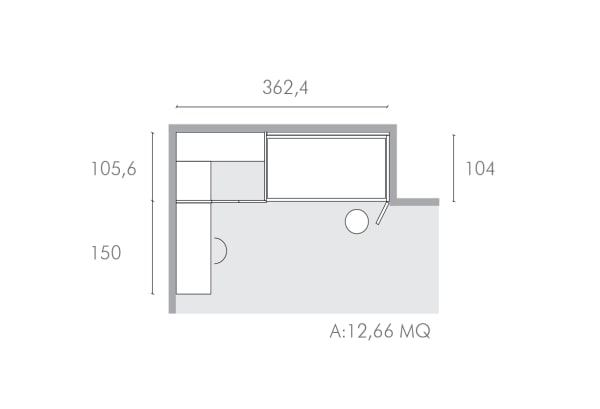 A place for everything and everything in its place
For a clutter-proof room, try to design a space where there is room for your daughter's possessions. Often it is not they who are messy, they just don't know where to put their stuff. A suitably sized wardrobe, a bedside table, shelves, drawers and that's it. They will have no more excuses for being untidy!
A space saving solution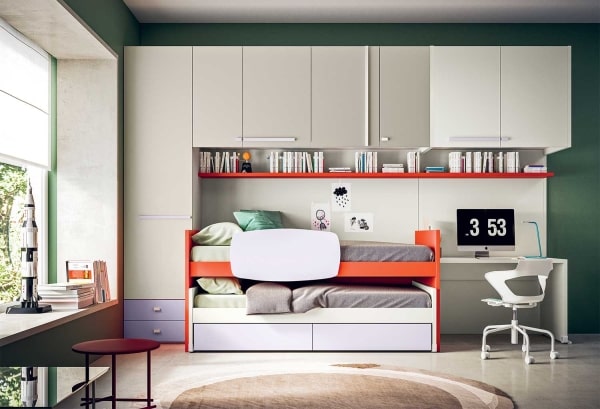 The set: compact 2 bed bedroom set with wall mounted wardrobe and desk
The solution
Who says that a small room cannot be as practical and functional as a large one? The solution is a compact bedroom set with trundle bed and a bridging wardrobe.
The strength of this bedroom set is its size: 390 cm long, it fits everything a girl needs to sleep, relax, study and host friends.
Choosing wall mounted storage is a great idea to reduce the overall footprint. The pull-out bed is another clever space saver for tiny rooms.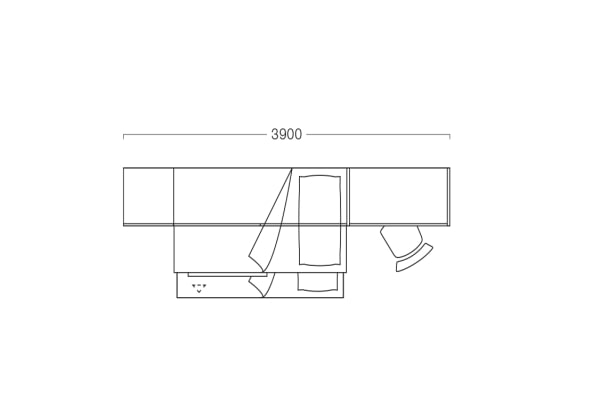 Narrow room: what to do with the desk?
If the room is tight, place the desk against the wall. You can also use the footboard of the bed as an anchor point for the worktop.
Remember to make use of natural light from a window if possible. If not, illuminate the desk with a good, adjustable table lamp.
Beige and lilac bedroom set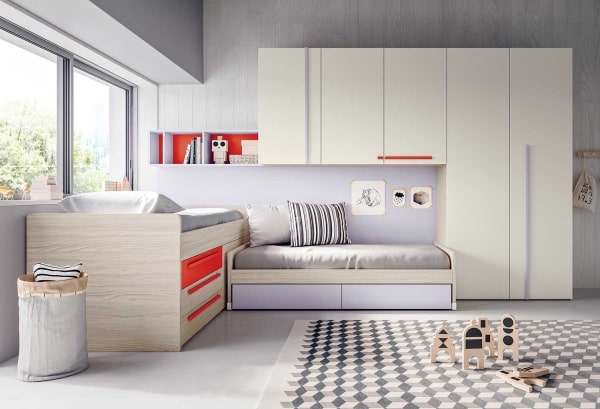 The set: high sleeper with drawers, single bed with drawers, 2-door wardrobe plus floating cabinets
The solution
Here lilac plays the co-star, leaving more room for a neutral beige, with the addition of a few touches of orange. A perfect choice for those who don't want a childish solution, but still want a feminine touch.
In this corner bedroom set for two, colours are well-balanced, creating a playful space with a timeless style.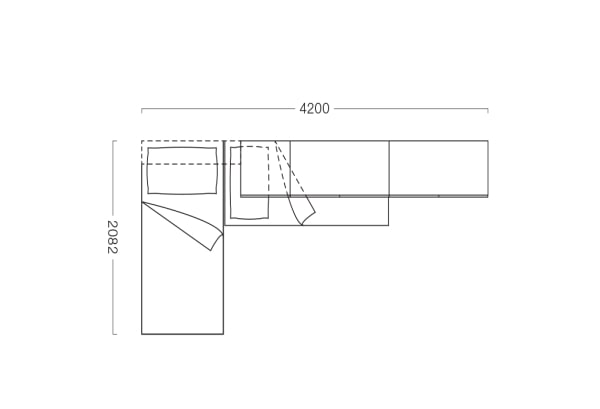 Never forget the corners
Not all bedrooms have regular floor plans: there are narrow rooms, attic rooms, l-shaped ones...the important thing is to be able to take advantage of every inch and to turn corners into allies. An example? See how the two beds are arranged in the solution shown above!
Some blue...why not?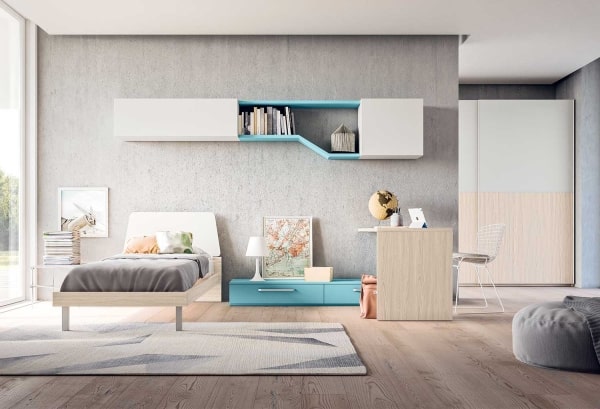 The set: single bed, drawers, desk, shelves and a sliding door wardrobe
The solution
Blue, white, wood: is anyone thinking "Scandinavian style", or are we the only ones? It's the 21st century, and we are tired of the pink for females VS blue for males. This white and wood bedroom set features some baby blue pieces that work absolutely fine with the rest.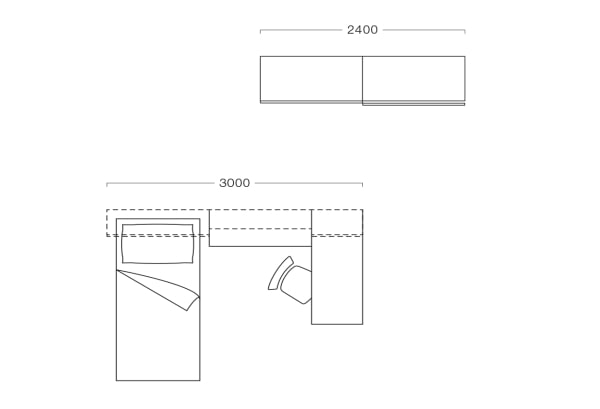 The benefits of blue in a bedroom
Colour therapy strongly affirms this: blue and light blue are the ideal colours for decorating kids' rooms.
Light blue is really not your thing? Go for super stylish teal, indigo, peacock, denim, turquoise or sapphire. Their proverbial relaxing power and jewel tones will work wonders in your teen bedroom.
A loft bed for a 2 girls room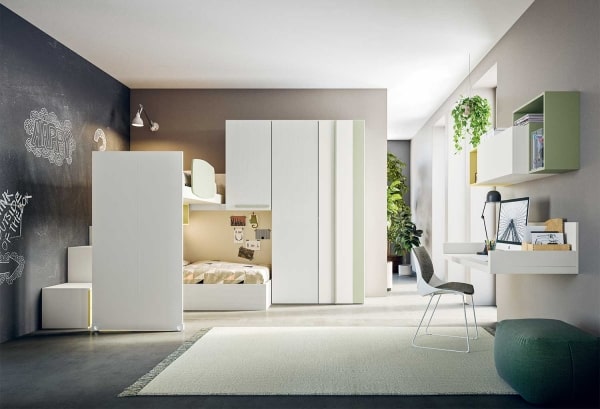 The set: loft bed, single bed, floating desk and shelves, 2-door wardrobe with one wall mounted cabinet
The solution
When the room is shared by siblings, the job of planning can be hard. Especially when those siblings are 2 girls (let alone two girls that are of very different ages). Dividing their spaces is key, and a bedroom set with a loft bed may be just right.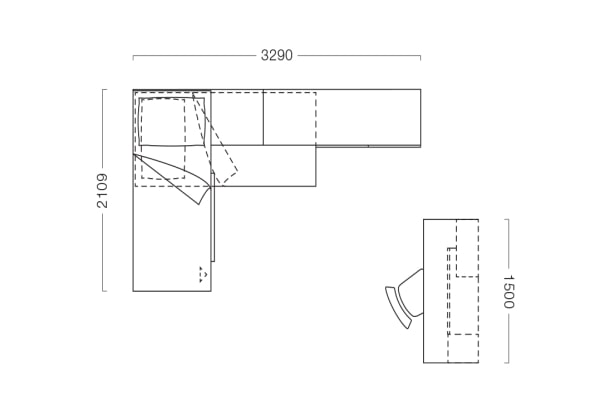 Space-saving tricks
Even the smallest of bedrooms can be home to some great furnishing ideas. If you choose a girl's bedroom with a high sleeper bed like this one, opt for a stair with integrated baskets.
A set with an extra large single bed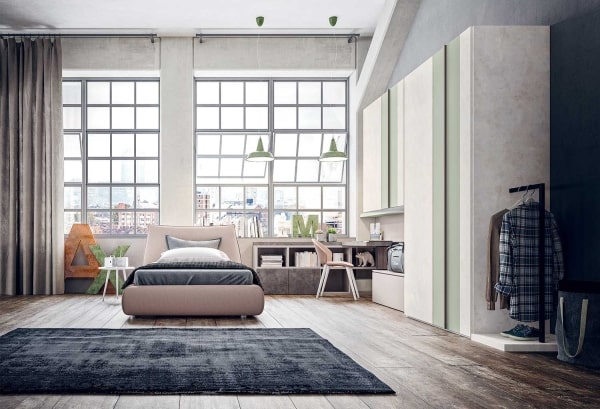 The set: extra large single bed, corner study area, wardrobe with bridging cabinets and clothes rail integrated
The solution
Doctors say it and psychologists confirm it: for teenagers, sleep is essential. Especially good sleep, which allows the brain to unplug, memories to settle in and the body to regenerate.
That's why, when it comes to furniture, it's better to go for a teenage girl's bedroom set with a large bed, slightly wider than a standard 80x190 cm single.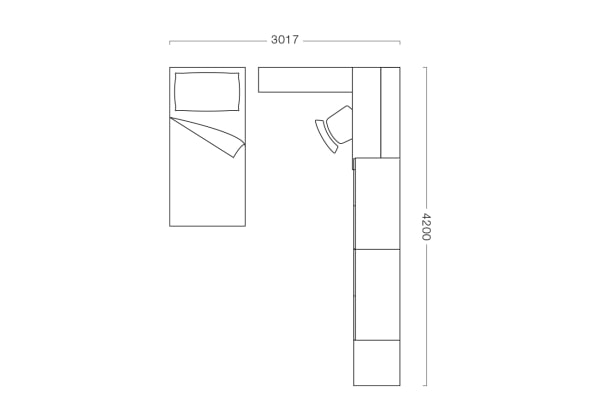 Extra storage
A single bed can hide practical extra storage. Pick an ottoman bed, and you'll have a space for bed linens, blankets, bags and backpacks.
The romantic teenage girl room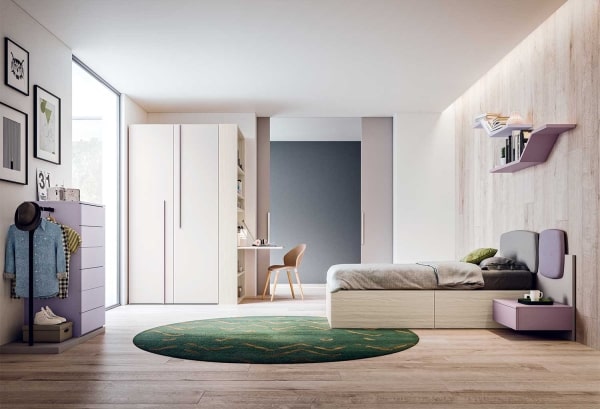 The set: single bed, chest of drawers, 2-door wardrobe with built-in bookcase and desk
The solution
She loves to write, to get lost in the pages of a romance novel, and to fill her journal with her thoughts. Your daughter is a dreamer, and hers has to be a modern romantic bedroom.
This solution combines delicate feminine colours (pink, lilac, lavender), grey and light wood. It features everything a girl needs: a comfy bed with drawers, shelves and a bookcase with a drop-down desk, a roomy wardrobe and a chest of drawers with a convenient clothes rail.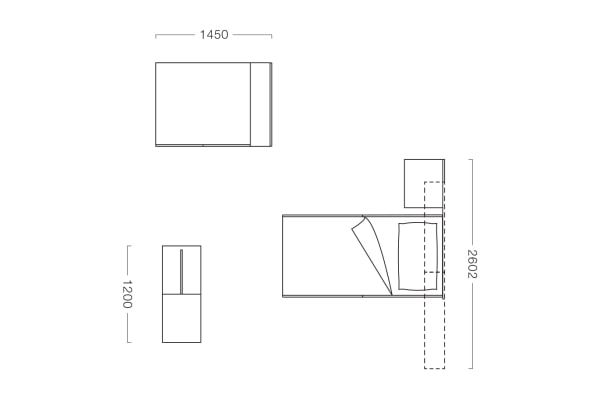 The fashionista's room: big wardrobe wanted!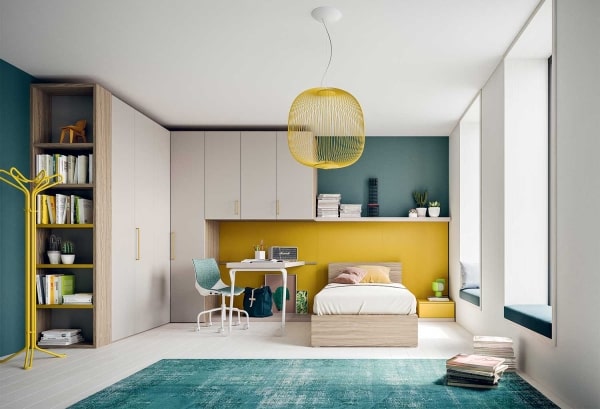 The set: corner wardrobe with wall mounted units, single bed and desk
The solution
Every true fashionista needs a proper, large wardrobe. Go for a customized solution and make it big enough to contain shoes, clothing, bags, accessories, coats, belts, scarves...and whatever fashion demands.
In just over 8 square metres, this girls' bedroom with corner wardrobe shows how to fit a huge wardrobe into a small space by combining freestanding and wall mounted cabinets.
A side bookcase, a sliding desk and a comfy bed complete the look.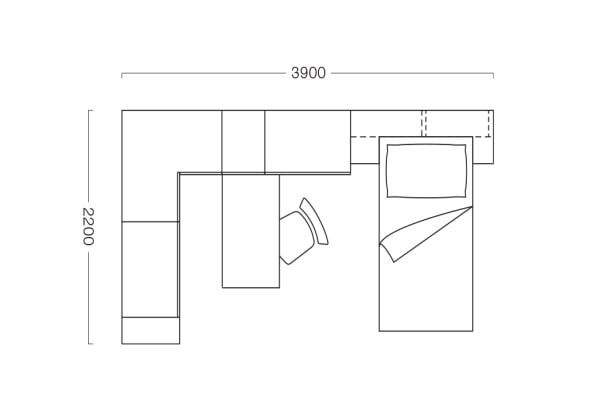 Want to know more? Dreaming of quality Italian furniture for your kids room? Click here to get in touch.