Design ideas for an Italian-style boy's bedroom
Not yet adults, no longer children, teenage boys make their bedrooms a real hideaway where they can relax, listen to music, study or meet friends.
Finding the perfect solution, the one that suits them, is anything but simple, but with a few tricks it is possible to arrange a truly functional boy's (and student's) room.
What shouldn't be missing in the bedroom of a 15 or 20-year-old boy?
What you'll find in this post:
Bed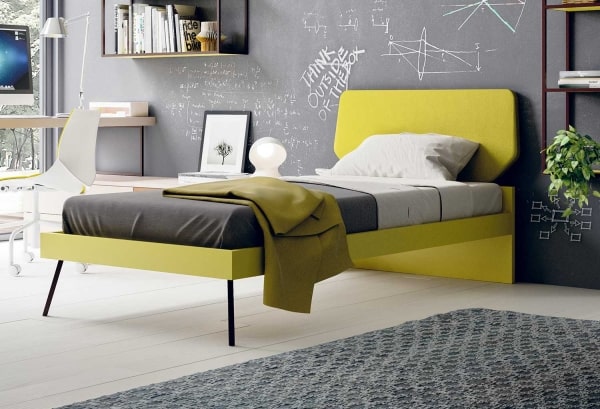 A nice and comfy single bed is the number one essential when it comes to decorating any kind of bedroom.
Teenage boys grow very fast and need a super cozy bed for them to really enjoy their sleeping hours. Remember that a good night's sleep allows the brain to unplug, memories to settle in and body to regenerate.
So it is worth asking yourself:
is it better to choose a single bed or a small double bed?
We choose - without further hesitation - the small double beds which, with their generous size, can accommodate your boy while he grows up, until he is ready for university.
Wardrobe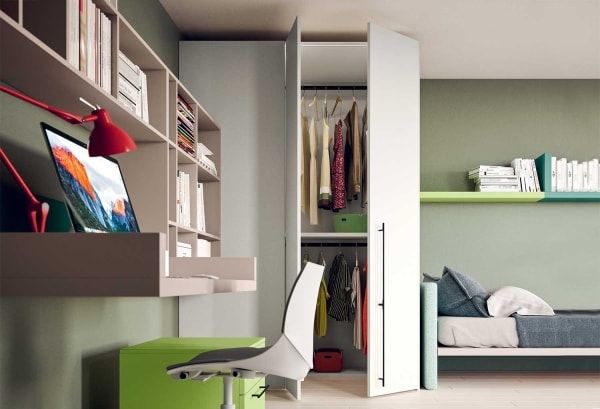 In their teenage years, many boys start to take interest in fashion (albeit to a lesser extent than their girl peers!) in an attempt to emulate their idols and follow the last social trends. It goes without saying that their bedroom should have a large and well-organized custom wardrobe.
Interior fittings must include:

shelves for their favourite t-shirts, hoodies, caps and beanies
a mirror
rails for shirts, trousers, jeans and joggers
Desk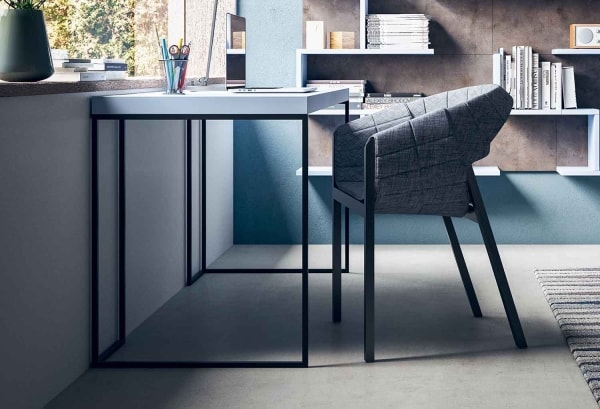 Teen years, school years. An organized study area with a comfortable desk is key for concentration. Plus, this is a working area for creating art or playing computer games!
Remember that secondary school students spend many hours studying and doing homework, so it is vital that the desk is large enough to accommodate books, PCs and keyboards, and high enough to support the forearms and maintain a correct posture.
Study desk ideal dimensions

Worktop height: 70 / 75 cm
Width (minimum): 80 cm
Depth: 60 / 80 cm
Chair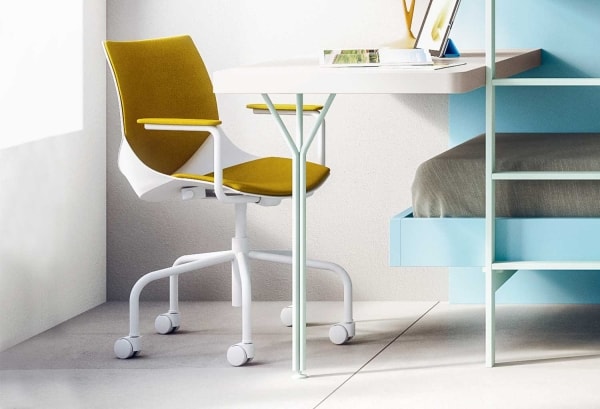 A comfortable study area has to have a great desk chair.
Whether it is intended for a 13 or 18-year-old student, it makes no difference: the seat must be comfy and ergonomic.
Experts all agree that chairs intended for kids and teens should be padded, swivelling and adjustable.
If the seat is upholstered, it will not be necessary to use cushions to soften the rigidity of the structure. In addition, by choosing an adjustable seat and legs with castors, you can easily move the chair and adapt it to the height of the work surface.
Bookcase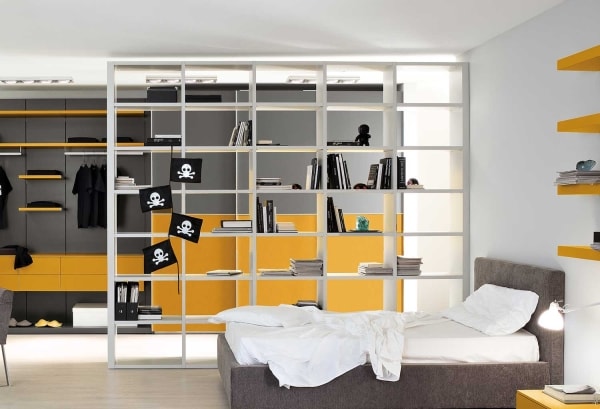 A bookcase is another essential when it comes to boys rooms.
A bookshelf can of course accommodate books, comics and collectibles, but it can also work as a room divider and a storage unit where toys, stationery and other stuff can find their rightful place.
Chest of drawers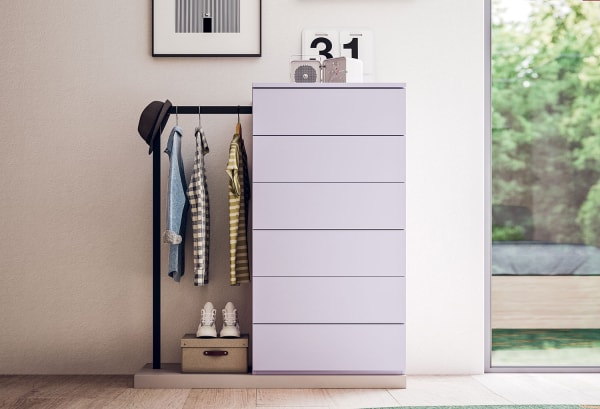 For t-shirts and jumpers, bermuda and swim shorts, socks and underwear, beanies and scarves: a chest of drawers is the perfect addition to any boy's bedroom. This is especially true when the wardrobe is small, and you need extra storage.
Boys bedroom ideas
Once you've discovered what furniture pieces are essential in a boy's room, all that's left to do is decide how to arrange them! Take a look at our bedroom sets and find the inspiration.
A young boy room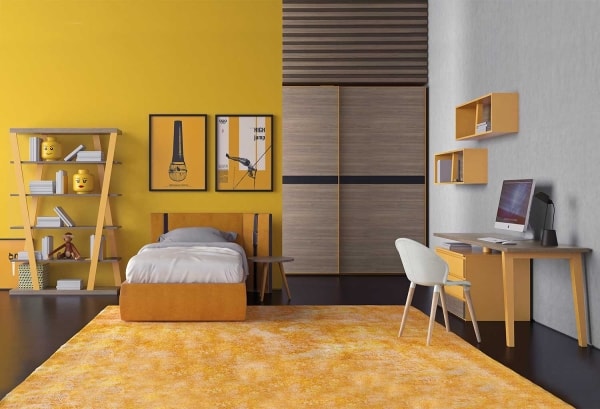 Dimensions: 16 m²
Layout: L-shaped
The solution
This young boy room is decorated in yellow and grey, reflecting contemporary trends without sacrificing anything that might be needed in a teenage boy's room.
The study area features a large modern desk with drawers, a Scandinavian style upholstered chair, and two shelves. An upholstered bed, a playful bookcase and a roomy sliding-door wardrobe complete the set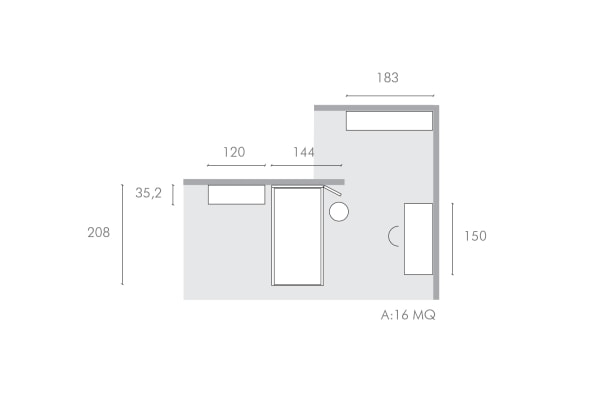 Focus on: yellow. This is a vibrant, gender neutral colour that conveys dynamism and joy.
To compensate and reduce its energizing effect, combine it with a neutral tone such as grey, or with wood.
A 15/16-year-old boy room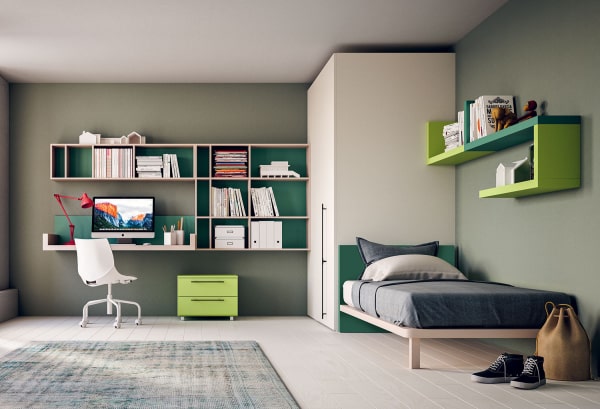 Dimensions: 13 m²
Layout: squared
The solution
The second design recreates the room of a boy between 15 and 16 years of age. It is a student-friendly environment, offering a young person everything he needs to carry out his school activities in the best possible way.
The study area, large and functional, is the star of the set. Except for the small chest of drawers, all the elements in it are fixed to the wall so as not to take up floor space. A wall mounted bookcases and a floating worktop with side panels will give your son all the space he needs for his computer, books and stationery.
The set is finished off with a large and deep wardrobe, and a single bed.
Focus on: shelves. Despite the large wall-mounted bookshelves, it may be necessary to add more shelves to the room.
Use coloured shelves to fill in the gaps on the walls and let your kid fill them with CDs, comics and photos.
A 20-year-old student bedroom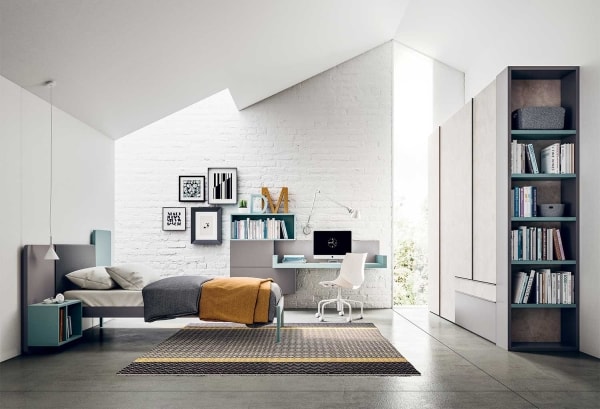 Dimensions: 9 m² (o più piccola)
Layout: any type
The solution
A university student bedroom set needs to embrace a minimalist style. He is not your little one anymore, he is a grown up and his space has to become more adult-like.
This modern bedroom includes freestanding elements that can be arranged freely in any kind of room, of any size. The sleeping area features a bed with a modular upholstered headboard. A large wardrobe will contain all his clothing and accessories, while offering a convenient bookshelf on its side. Last but not least, the study area: a floating desk with storage units and an open shelf for books.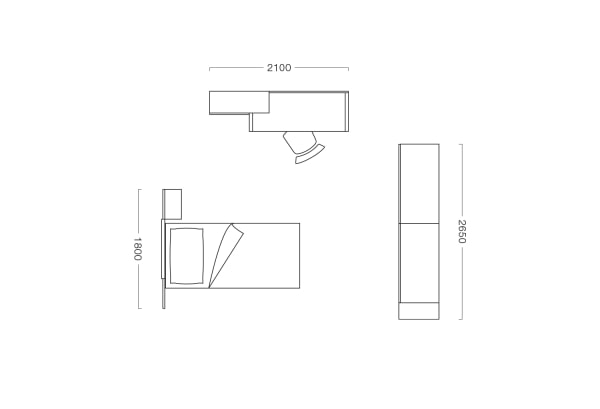 Focus on: minimalism. There is no chance for clutter to take over, as the room is fully equipped with storage pieces. The grey and light blue tones create a sophisticated environment in line with the needs of an adult. The palette is relaxing, ideal for a room designed for resting, but also for studying and meet friends.
A space-saving solution for boys small bedrooms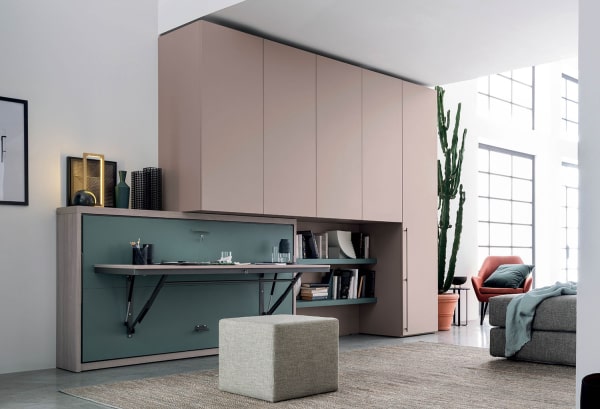 Dimensions: circa 9 m²
Room Plan: rectangular, narrow
The solution
A space saving bedroom set with murphy bed is the ideal choice for super tiny rooms as it concentrates on one single wall. What's more, the bed can be hidden during the day, allowing your boy to enjoy more free space.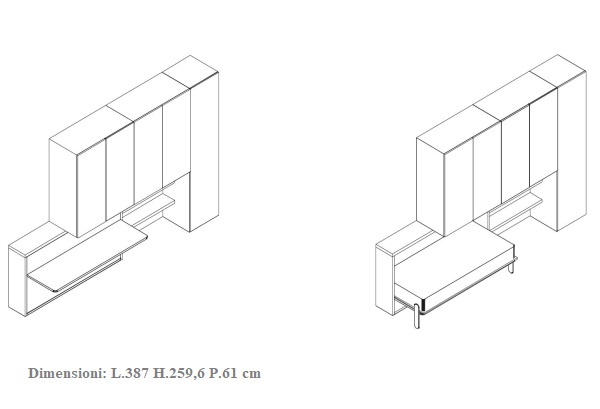 But that's not all: in order to use the area right down to the last inch, the murphy bed incorporates a desk.
Most of the remaining wall is taken up by the wardrobe, which consists of a 1-door unit and modular wall mounted cabinets that run over the bed structure and a couple of shelves.
Focus on: multi-functionality. The secrets for making the best of a small room are 2: use the walls and go for 2-in-1 (or 3-in-1) pieces of furniture.
Recap
Age-appropriate furniture

How old is the occupant of the room? This is the first question to ask when choosing the furniture. Colours and design are often proposed according to the age of the person who will use the bed, wardrobe, desk and chair. A bedroom set for young boys may still have some childhood nuances (pastel shades, rounded corners, large handles). On the other hand, they grow up, eventually! They become teenagers and then they go to university. Neutral colours (black, grey, blue) and on-trend designs (industrial, Scandinavian, minimalist) may be a better option if you are looking for a set you want to last in time.

What do they need?

Is your boy a gifted student or an outstanding football player? Fashion is his great passion? Is he a technology nerd? Depending on his talents, a teenager might need a large desk or a large TV, a performing PC or an extra large wardrobe for clothing, or for football boots and gym equipment.

Sharing is caring

When the room is shared between 2 or 3 siblings, planning must be extra meticulous. Each of them should have an area that is theirs and theirs alone. They will need their own space to rest and study, plus a common space to play or meet with friends. Aim for multi-purpose solutions if the room is small (murphy, bunk or loft beds), or designate specific areas if the size of the room allows it.

Measure, measure, measure

It goes without saying that the more space there is in the room, the more furniture solutions there are. But don't forget that even very small rooms can be functional, as long as you design them wisely. Don't go for oversized pieces, use the walls, go high with bunk or loft beds, prefer neutral and bright colours: just a few tips for a good start!

Need more ideas for a young or teenage boy's room? Find inspiration in our selection of images!




Boys bedroom pictures

Contemporary bedroom set for a boy - Start T01




Blue, white and wooden bedroom set for boys - Start Up 06




Modern boy's bedroom set - Start T04




Corner bedroom set for teen boy - Start T02




Small corner bedroom set for a young boy - Start P22




Boy's bedroom set with wall mounted wardrobe - Start P17




Two boys room with loft bed - Start S32




Want to know more? Dreaming of quality Italian furniture for your kids room? Click here to get in touch.